"King of foundry machine"-Qingdao Hachieve machinery equipment Co.,Ltd. (formerly Qingdao Third Kind Machinery Plant) has engaged in foundry machinery:shot blaster、shot blasting machine、H beam Shot blasting machine、sand blasting machine、steel plate shot blasting machine、blast wheel、steel pipe shot blasting machine、hook type shot blasting machine、steel plate and profile shot blasting and painting production line ,more than 20 years long and deep culture background and technical essence, by virtue of high quality most have 10 years of practical experience and grasp of domestic industry-leading technology with the employees and the public superior production enterprise operating machine to rigorous, pragmatic, efficient, innovative and high-tech business ideas relying on a high starting point and large span developing. We succeed to be the foundry producing base and high-leveled technical researching center in China foundry machinery field. "Thousands of lanyard historic, centuries of Hachieve enterprise", in order to become the world level enterprise, as a hachieve person, we are solidarity, vigorous to forge ahead to represent technology industry and the excellent quality and outstanding service for the national foundry ,melting ,shipbuilding, construction, mining machinery and construction machinery and so on. We also can design various of non-standard, key-delivered construction foundry machinery according to the customers request and supply high-tech, advanced durable automatic steel plate and profile pretreatment line, painting, shot blast cleaning machine, sand handling equipment and environmental dust collecting equipment. The company is located in west coast of the beautiful coastal city Qingdao, transport facilitation, elegant environment. The company occupies 120,000 square meters, 50,000 square meters of gross floor area, more than 120 employees, sales professionals, technical staff of 40, with full categories of machining and welding equipment more than 200units, with processing center for processing products for key components of precision parts, has Balancing Instrument various testing equipment that peen-balancing and wear resistance, has established and advanced CAD network, the use of computer-aided product design, right-peen CME map, and the whole room of the optimum design, electrical control may PLC automatic control, dynamic simulation system and various brands touch-screen application, which guarantee the advanced and reliable products. "Product quality represents moral quality", The company implements the "Name brand" strategy and "total quality management" and gain the ISO9001 international quality system certification. We pursue product quality improvements and service perfection. Our company operating philosophy is: "The user is always right";"One dissatisfied customer will affect 30 personal wishes of purchase"; "Cost of developing of new users is at least five times cost of maintaining old customers".

二、Design and Research
Talented persons
The research institute of the company comprises technicians with proficiencies of Machine design, workmanship, electric and computer techniques, of which:
1. Machinery engineers are good at Computer Aided Design (CAD), Machine design, electric techniques, and pneumatic/hydraulic control techniques;
2. Technological engineers master the techniques of cast of wear-resistant parts, NC programming, thermal treatment, etc.
3. Electric engineers are competent at the design of electric system, programming of the Programmable Logical Controller (PLC, Including such brands as OMRON, MITSUBISH, SIEMENS, etc.), and communication between upper computer and PLC and peripherals, DA/AD techniques;
4. Computer engineer can independently fulfill the development of monitoring software (Visual C++ programming), and configuration software (including FIX, SIEMENS WINCC, etc.) and application of various kinds of touch screens, and simultaneously, with the help of the advanced 3D software, can carry out the optimized design of blasting principle, cabinet, as well as the whole machine.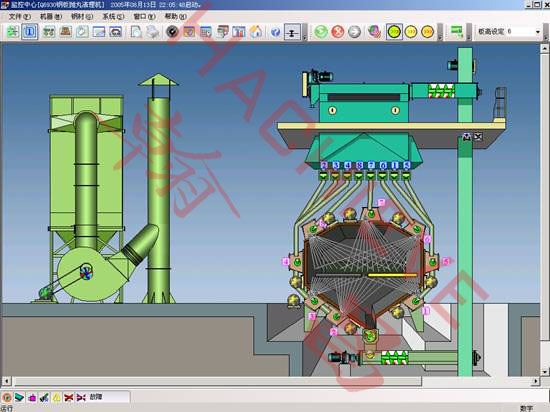 Research contents

As the professional foundry machinery producing factory, the technicians of our company carried out exclusive research in the following aspects in the same profession in China:
1. The blast wheel: type, material of wear-resistant parts; material, shape (linear, curved) and dimension, of blades, the projecting direction, dynamic and static balance, and application of other auxiliary element (e.g. bearings);
2. The optimized design of blasting principle and the blasting cabinet: the abrasive projecting track, the sealing of the cabinet, protection of parts inside the cabinet (such as rollers, the lighting lamps, etc.);
3. The abrasive recycling system: output, wind speed and ventilation capacity, abrasive/sand (dust) separating technique, the uniformity of abrasive distribution of the large capacity of separator; the elevating technique of large capacity elevator, etc.
4. Dust-removing and environmental technique: dust-removing technique, silencing technique, etc.
5. Sand processing (green sand and resin-bonded sand).
6. Industrial control and automation: the measuring and controlling technique of large-scale non-standard equipment (such as steel plate automatic pretreatment line), the simulation of the operating procedure and share of factory-level producing data.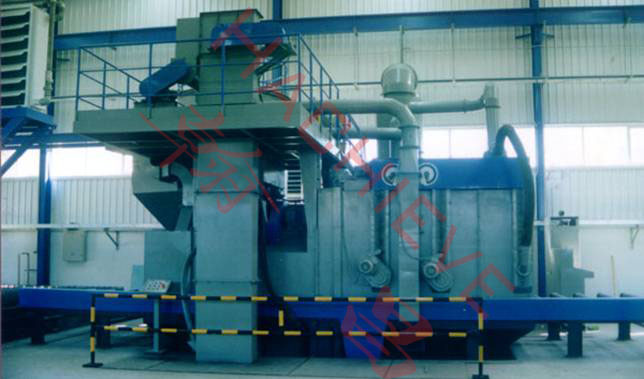 Specific practice
The technicians of the company, together with the named universities and research institutes (including Tsinghua University, Shandong Institute of Technology [SIT], Jinan Foundry And Forging Machinery Research Institute), finished the software of "Computer Aided Design (CAD) for Shot blast cleaning machine"; independently developed blasting simulation and blasting effect 3D simulation software (this forcefully guarantees the shot blasting effect, heightens the abrasive utilization rate and the quality of the whole machine). Currently, our company carries out the optimized design for every product.
We have matured experiences in the research and development of large-scale non-standard equipment for sections and sectional parts cleaning. The products that are designed by our key technicians, such as the steel plate pretreatment line for Shanghai Waigaoqiao Ship-building Inc. and Anyang iron and steel works, the hook-type shot blasting machine for Hefei Hitachi Earth-moving machinery Co., Ltd., are proven good.
In aspect of industrial control, the technicians independently completed the monitoring and controlling system for the steel plate pretreatment line and various kind of touch screen monitoring programme (Human Machine Interface).
Product Design Time
4. As for large-scale products, under the prerequisite of guaranteeing the quality of the product, the product design time of our company may be within one and a half months.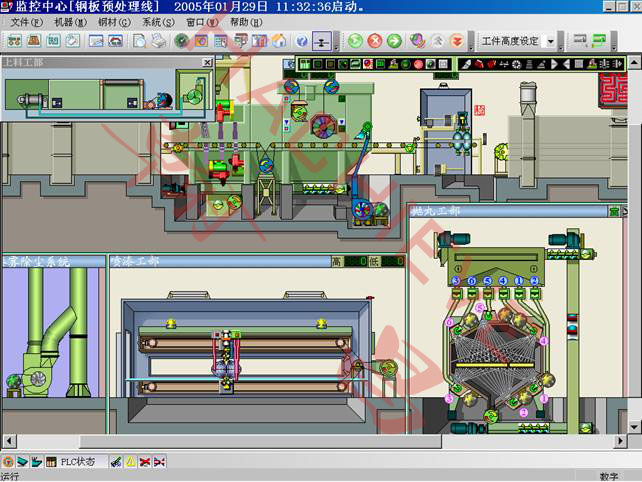 Undertakings
1. We realize the "three guarantee" policy to our products. Within the "three guarantee" warrantee period, if, under the normal production conditions, fault or damage occurs (excluding easy-worn parts), our company is responsible for the free maintenance and replacement.
2. If, during warrantee period, a quality problem occurs, after receiving the notification of our users, within 24 hours: Reply through telephone or fax, or Dispatch servicing personnel, repair within a given period, and should "not withdraw until eliminating the fault".
Guarantee
The company enforces "Brand" strategy; realize "Total Quality Control (TQC)" and ISO9001 International quality system certification.
The products are designed by experienced engineers; the design DRAWINGS are checked by experts, to guarantee the design quality;
The product will never be sub-contracted to the third-party;
As to the elements and parts of the products:
1. Such raw materials as steel plates and section steels are all purchased from brand factories;
2. Auxiliary elements, standard elements (such as rolling bearings, electric motors and reducers) are all purchased from brand companies, or designated by users.
3. The other elements (including weldment and machining elements, etc.), are all finished inside our company, to control the machining quality.
4. The electric elements adopts domestic quality (or imported, according to the user's requirement) product, the PLC adopts international brand products (OMRON, MITSUBISH, SIEMENS,etc.), to guarantee the automation level.
5. A quality supervision team that consists of design engineers and quality inspectors is established, to guarantee the manufacturing quality.
Key parts (such as blast wheels), all experience long-time loading trial run within the factory.
As for large-scale non-standard equipment, after finishing manufacturing, the user will carry out the pre-acceptance to every functional part, only after the equipment is regarded as quality product, can it be allowed to leave the factory.
The company guarantee the spare-part supply for our products (For detailed information, please refer to "Spare-part and special tools").

Executing standard
In addition to the relevant standards stipulated by the user, our company executes the following standards during design, manufacturing, installation and trial run:
| | | |
| --- | --- | --- |
| 1 | GB191-1990 | Packing, storing and shipping illustrations and tokens |
| 2 | GB9969.1-1988 | Industrial products user's manual General term |
| 3 | GB/T 13306-1991 | Name plate |
| 4 | GB/T 13384-1992 | Electromechanical product Packing general technical term |
| 5 | GB/T 5226.1-1996 | Industrial machinery electric equipment Part 1: General technical conditions |
| 6 | GB4053-83 | Standard for climbing ladder, platform and guide-railing |
| 7 | JB 3713.2-1984 | Double-disk blast wheel Technical condition |
| 8 | JB5545-1991 | Foundry machinery safety protection Technical term |
| 9 | JB/T5365.1-1991 | Foundry machinery roughness measuring method Weight method |
| 10 | JB/T6331.2-1992 | Foundry Machinery noise measuring method sound pressure grade measurement |
| 11 | JB/T8355-1996 | Airless/air shot blast equipment general technical term |
| 12 | JB1644-91 | Foundry Machinery General technical term |
| 13 | JT/T8355-96 | Airless/air shot blast equipment general technical condition |
| 14 | ZB J61 008-1989 | Single-hook Shot blast cleaning machine technical condition |
| 15 | ZB J61 010 -1989 | Pass-through Shot blast cleaning machine technical condition |
四、New material, new technology
Our company devotes to adopting new material, new technology, to improve the quality of our products:
According to the user's requirements, the steel plates and sections may be shot blast cleaned and painted protecting primer.
The frequency converters, shaft-mounted reducers are extensively used.
Adopts such measuring and controlling elements as revolving encoders, temperature controllers (steel plate pretreatment line), etc.
Adopts simulating plates (Mosaic), touch screens, computers, etc. to carry out the working status monitoring and controlling.
As for large capacity separator, applies overflow inducting full shutter multi-grade airwash separating technique.
五、Spare parts and special tools
The company owns the spare-part store (such as blast-wheel assembly, and wear-resistant part, etc.), which can supply at any time the spare-parts and auxiliary parts needed when maintaining and repairing. If the user is in urgent need, the company will make sure that the required element be received within three days.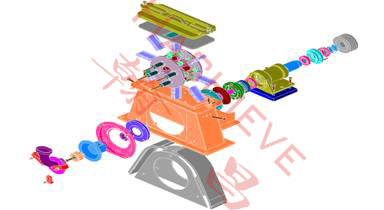 Equipment standard parts selection, is directly related to the quality of equipment is an important part of the. Selection of good quality, observe the credibility of the enterprise's products as my company's support, our company is to improve product competition ability, market occupies an important standard. My company cleaning equipment standard parts manufacturers are selected from domestic brand-name manufacturers ( or strictly in accordance with the requirements of users).
1

PLC

rogrammable controller

OMRON Japan, Mitsubishi, GE or German Siemens

2

Frequency converter

AV300i, MM420, or Emerson Lenz, Mitsubishi

3

Photoelectric switch

OMRON

4

SEW reducer

Tianjin ( SEW ) speed reducer factory

5

Cycloidal pin wheel speed reducer

Qingdao speed reducer factory

6

Ball bearing

KaiFeng Bearing Factory

7

Bearing

Bearing factory or haing axis factory

8

Motor

ZiBo BoShan Motor Factory/HongQi Motor factory

9

Cylinder, gas control box

Ji'nan Huaneng pneumatic

10

Hydraulic components

Shanxi Yuci hydraulic parts

11

Other low-voltage electrical components

Domestic brand-name manufacturers

12

Standard parts ( such as bolts, nuts etc.)

Yantai Standard parts Factory
七、Technical service and training
When the equipment was installed and tested, and after it is accepted by the user, our technicians will carry out the technique, operating and maintenance training to the operators and maintenance personnel of the users.
八、Delivery time, controlling system and implement plan
Our company strictly abides by the time limit stipulated by the contract and technical agreement, to guarantee the time limit.
The company will strictly execute the contract according to ISO9001. After the contract is signed, a quality and time limit supervision team, including research institute, sales department, producing department, supply center, enterprise management, will be immediately formed, to completely and timely supervise the progress of the project.